Re-Entry Health & Safety Considerations
Important Information for Residents Entering the Burn Area
Butte County and the Town of Paradise are providing information to help you safely visit your property. The information contains important details about the hazards of entering an area that has been in a fire and instructions to ensure your safety. Please familiarize yourself with the information in the Re-Entry Health and Safety Information Packet |  (Español) (Hmoob) If you have a private well, see handout entitled "Well Disinfection and Sampling Information."
Fire personnel are still active in the area. Please reduce speeds and drive with caution.
Re-Entry Health and Safety Kits
When visiting fire-impacted areas, you will encounter dangerous conditions and will be exposed to hazardous materials. Environmental Health will provide re-entry health and safety kits at the Disaster Recovery Center and at Community Meetings while supplies last.  Please use these items to minimize exposure to toxic materials.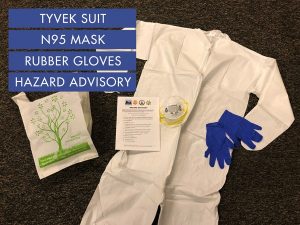 Re-entry kits include:
Full body Tyvek suit
Rubber gloves
N-95 mask
Hazard Advisory & Health and Safety Precautions
Once your visit is complete, discard items from the re-entry kit in the plastic bag provided and leave the bag on your property. The bag will be removed by hazardous waste and debris removal professionals.
Limited Services in Burn Area
Residents need to be aware that the areas impacted by the Camp Fire  may have very limited services. Prior to returning home, residents are encouraged to take steps to ensure they have food, water, and fuel for their vehicles.  Residents are advised not to use generators to power buildings or structures due to potential back feeding of electrical lines.
AT&T has restored services to all standing structures.
Comcast continues to restore services in Paradise and hopes to be complete by the end of January. Services to Magalia and The Ridge may be complete by the end of February.
PG&E has restored electrical services to locations that can safely receive services. To obtain an update on restoration of services, visit: pge.com/fireresponse or call 1-800-743-5000. View additional PG&E Camp Fire Resources.
Health Officer Issued Hazard Advisory Warning Against Habitation of Destroyed Property
The Butte County Health Officer has issued a hazard advisory strongly suggesting no habitation of destroyed property until property is declared clear of hazardous waste and structural ash and debris by Butte County Environmental Health. There is evidence from recent fires in California that homes and property destroyed by fire contain high and concerning levels of heavy metals, lead, mercury, dioxin, arsenic, and other carcinogens. Some property may have the presence of radio-active materials. Exposure to hazardous substances may lead to acute and chronic health effects, and may cause long-term public health and environmental impacts. Learn more at buttecountyrecovers.org/health-officer-issues-hazard-advisory-warning-against-habitation-of-destroyed-property/.
Food Safety: Removing Odors from Refrigerators and Freezers
Refrigerators and freezers are two of the most important pieces of equipment in the kitchen for keeping food safe. We are instantly reminded of their importance when the power goes off, flooding occurs, or the unit fails, causing food to become unsafe and spoil. The odors that develop when food spoils can be difficult to remove. Use this information to learn how to remove odors from units or how to safely discard an affected unit. Learn more here: Removing_Odors_from_Refrigerators_and_Freezers
If your refrigerator or freezer needs to be disposed of, it must be completely emptied before your waste management company will pick it up or you will be able to deliver it to the Neal Road Landfill. NO REFRIGERATORS OR FREEZERS CONTAINING FOOD WILL BE PICKED UP. Please check with your waste management company for information on pickup services and any potential associated costs.
Emotional Support Services Available
Members of the Southern Baptist Chaplaincy Program, who are trained in critical incident stress management, will be available on the ground in the re-entry areas to offer crisis counseling support to residents returning to their properties for the first time.
Increased Risk for flash flooding, mudflows and debris flows in Fire-Impacted Areas
Residents should be advised that properties impacted by the wildfires, and downstream of those areas, are at risk for flash flooding, mudflows and debris flows during periods of intense rainfall. Residents re-entering areas within the burn scar, or those who are downstream of that area, are reminded to remain vigilant. Learn more about these hazards at buttecountyrecovers.org/multiple-agencies-act-to-prepare-for-potential-post-fire-floods-and-debris-flows/.