Re-Entry to Burn Area
Health Officer Issued Hazard Advisory Warning Against Habitation of destroyed Property
The Butte County Health Officer has issued a hazard advisory strongly suggesting no habitation of destroyed property until property is declared clear of hazardous waste and structural ash and debris by Butte County Environmental Health. There is evidence from recent fires in California that homes and property destroyed by fire contain high and concerning levels of heavy metals, lead, mercury, dioxin, arsenic, and other carcinogens. Some property may have the presence of radio-active materials. Exposure to hazardous substances may lead to acute and chronic health effects, and may cause long-term public health and environmental impacts.  Learn more
Important Information for Residents Entering the Burn Area
Butte County and the Town of Paradise are providing information to help you safely visit your property once it's determined that evacuation orders can be lifted for your neighborhood. The information contains important details about the hazards of entering an area that has been in a fire and instructions to ensure your safety. Please familiarize yourself with the information in the Re-Entry Health and Safety Information Packet |  (Español) (Hmoob) If you have a private well, see handout entitled "Well Disinfection and Sampling Information."
Fire personnel are still active in the area. Please reduce speeds and drive with caution. The cancellation of additional evacuation orders is being evaluated based on a variety of factors, including potential fire behavior and life safety hazards.
Re-Entry Health and Safety Kits
When visiting fire-impacted areas, you will encounter dangerous conditions and will be exposed to hazardous materials. Environmental Health will provide re-entry health and safety kits at entrance checkpoints as evacuation orders are lifted. Please use these items to minimize exposure to toxic materials.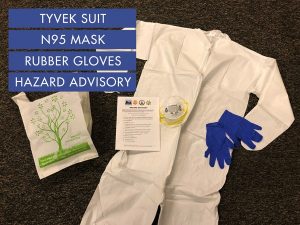 Re-entry kits include:
Full body Tyvek suit
Rubber gloves
N-95 mask
Hazard Advisory & Health and Safety Precautions
Once your visit is complete, discard items from the re-entry kit in the plastic bag provided and leave the bag on your property. The bag will be removed by hazardous waste and debris removal professionals.
Limited Services in Burn Area
Residents need to be aware that the areas being lifted may have very limited services. Prior to returning home, residents are encouraged to take steps to ensure they have food, water, and fuel for their vehicles.  Residents are advised not to use generators to power buildings or structures due to potential back feeding of electrical lines.
Health Officer Issued Hazard Advisory Warning Against Habitation of Destroyed Property
The Butte County Health Officer has issued a hazard advisory strongly suggesting no habitation of destroyed property until property is declared clear of hazardous waste and structural ash and debris by Butte County Environmental Health. There is evidence from recent fires in California that homes and property destroyed by fire contain high and concerning levels of heavy metals, lead, mercury, dioxin, arsenic, and other carcinogens. Some property may have the presence of radio-active materials. Exposure to hazardous substances may lead to acute and chronic health effects, and may cause long-term public health and environmental impacts. Learn more at buttecountyrecovers.org/health-officer-issues-hazard-advisory-warning-against-habitation-of-destroyed-property/.
Food Safety: Removing Odors from Refrigerators and Freezers
Refrigerators and freezers are two of the most important pieces of equipment in the kitchen for keeping food safe. We are instantly reminded of their importance when the power goes off, flooding occurs, or the unit fails, causing food to become unsafe and spoil. The odors that develop when food spoils can be difficult to remove. Use this information to learn how to remove odors from units or how to safely discard an affected unit. Learn more here: Removing_Odors_from_Refrigerators_and_Freezers
Emotional Support Services Available
Members of the Southern Baptist Chaplaincy Program, who are trained in critical incident stress management, will be available on the ground in the re-entry areas to offer crisis counseling support to residents returning to their properties for the first time.
Increased Risk for flash flooding, mudflows and debris flows in Fire-Impacted Areas
Residents should be advised that properties impacted by the wildfires, and downstream of those areas, are at risk for flash flooding, mudflows and debris flows during periods of intense rainfall. Residents re-entering areas within the burn scar, or those who are downstream of that area, are reminded to remain vigilant. Learn more about these hazards at buttecountyrecovers.org/multiple-agencies-act-to-prepare-for-potential-post-fire-floods-and-debris-flows/.
When will residents be allowed to visit properties still under evacuation?
We know how badly residents want to return to your property. Several agencies play an active role in ensuring the area can be opened and there are many things that are taken into consideration when deciding when to open an area for resident re-entry, including:
 Efforts to complete a thorough search of every property remains a priority for law enforcement. This process is nearing completion.
Although an area may have been burned days ago, there are still ongoing hazards such as debris hazards on the ground and in the air, weakened trees that present fall hazards, and downed utility poles and lines.
The size and scope of the impacted area is a tremendous challenge and will take time in some areas to secure. The more damage a neighborhood has sustained by fire, the more complex and lengthy the efforts become to make an area safe for re-entry.  We know that not having immediate solutions to all of these issues is frustrating. We want to assure residents that the Butte County Sheriff's Office and Paradise Police Department, in conjunction with multiple agencies, as well as utility providers, are working as quickly as possible so that you may be granted access to your property.
Living in Fire Impacted Areas Once Evacuation Orders are Lifted
Building inspectors have inspected homes in the fire affected area that appear to have damage on the exterior. Based on the level of damage identified, your home may have a green, yellow or red placard. Please read your placard carefully to understand the damage assessment and level of occupancy safety determined.
Homes that are free of exterior damage have not been inspected and should be approached with caution. You are advised that toxic ash and debris may still be in and around your home and property.
If your home has not been destroyed by the fire and does not have visible exterior damage, then you may occupy the home at your own risk once evacuation orders have been lifted.  If your home is in close proximity to destroyed property containing hazardous debris and ash, including outbuildings on your property, you are urged to review the Health and Safety Precautions for entering a fire-impacted area. Home owners are advised to get a professional smoke damage inspection to assess the level of indoor exposure and identify how to safely remove the smoke damage.
People with chronic health and respiratory conditions, older adults, pregnant women, and children should exercise special caution because they may be more susceptible to health effects from the debris and ash. Do not allow children to play in ash. Wash and clean all children's toys carefully after possible contamination. Children should not be in the vicinity while cleanup is in progress. Even if care is exercised, it is easy to stir up ash that may contain hazardous substances. If you choose to allow your children to play outside, please keep them under close supervision as their exploratory nature may result in direct contact with contaminated materials.
Additional Resources: